Keto Spice Cookies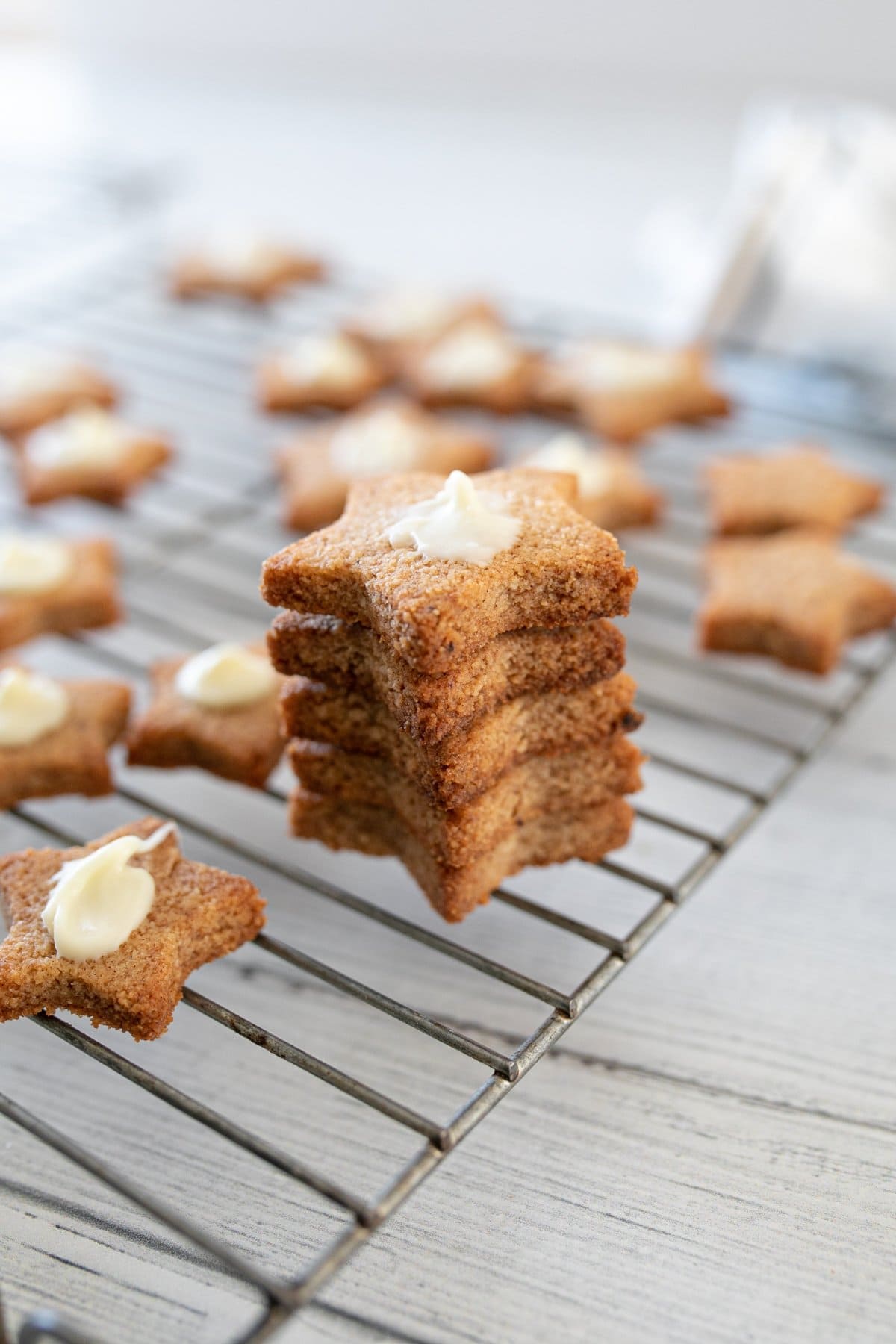 While there are a lot of cookies in this world, these keto ginger spice cookies will remind you of speculoos or speculaas cookies mixed with gingerbread. These cut-out cookies are gluten-free and sugar-free, sweetened with monkfruit sweetener.
Since I was young, I have not been a major cookie lover, but I've never met a Biscoff cookie I didn't like. I also had a special love for the thin spiced cookies sold at Ikea in a box where half may or may not be broken. Let's be real, Europe makes really good baked goods and speculoos or speculaas are no exception.
The only problem is, they're not low carb.
What Makes These Cookies Keto-Friendly
This keto spice cookie recipe is inspired by the flavor of speculaas cookies but is modified with accessible ingredients and low carb ingredients. It's kind of a marriage between the flavors of Biscoff and gingerbread. It's lovely.
Instead of using wheat flour, this recipe uses a mixture of almond flour with coconut flour. If you don't have coconut flour you could just add extra almond flour.
Sweeteners are often a tough thing to navigate when enjoying a low-carb lifestyle. Monkfruit sweetener is one of the most popular zero-carb sweeteners for good reason. Generally, people find it easier to digest and very similar to actual sugar. Almost all of the recipes on YGD that require sweetener use monkfruit.
Optional: While molasses is an optional ingredient, I highly recommend adding 2 tsp to your dough mixture. This will add an additional depth of flavor.
Ingredients for these Keto Ginger Spice Cookies
While authentic speculaas cookie recipes call for a different mix of spices, pumpkin spice is easy to find that is premixed and won't require you to have a cupboard full of spices. As mentioned earlier, these cookies are kind of the marriage between speculaas and gingerbread.
Almond flour
Coconut flour
Butter, softened
Pumpkin Pie Spice – this consists of cinnamon, ginger, lemon peel, nutmeg, cloves, and cardamom
Monkfruit Sweetener – Golden variety is your best choice, the classic would also work
Vanilla Extract
Salt – You could use pink salt or whatever you have
Baking Powder – Make sure your baking powder hasn't expired!
Egg
Molasses – Totally optional, omit if strict keto
Sugar-free white chocolate chips – optional – Bake Believe White Chocolate Chips are what I used (see the amazon picks, I also found mine at Walmart)
Instead of using a long list of spices, pumpkin spice is an easy way to get a mix of spices. Trader Joe's Pumpkin Spice is a great mix. Various brands will have different combinations of spices.
Tips for making this Keto Spice Cookie recipe
Since we're not working with regular flour here, there are a few extra steps to keep in mind.
Cream the sweetener and the butter. This is an important step in most cookie recipe making. Use a mixer or a wooden spoon to mix softened butter and sweetener together until it forms a cream.
Fully incorporate all of the ingredients and optional- add 2 tsp of molasses. Some people refuse to use molasses and that is fine, it will simply add an additional depth of flavor to these cookies.
Flatten the dough and wrap it in wax paper or parchment paper. Chill it in discs for at least 45 minutes.
Roll the chilled dough out to somewhere around 1/4″ (or thinner but make sure it is consistent). Cut out the shapes, I prefer using small cookie cutters for this recipe since the dough can be delicate when using larger cookie cutters.
Bake on parchment paper or a silicone mat then transfer to wire racks for cooling.
Can I make this Spiced Dough ahead of time?
Yes! You can make this dough ahead of time and leave it in the fridge for up to three days. Otherwise, you could freeze it for up to 1 month. If you choose to freeze the dough, make sure you wrap it well so that the dough doesn't absorb any freezer flavors.
Storage Instructions:
Store cookies in an air-tight container for up to one week.
More Cookie Recipes to Try
Connect with Yellow Glass Dish!
Did you make this recipe? Make sure to join the @yellowglassdish community on instagram and tag me in your cooking pictures! Don't miss out on tips, updates, and free kitchen printables! Join our Email List right here!
You can also join the YGD Facebook community! Also, get awesome low carb recipe inspiration on Pinterest.
For THM friends, this is an (S)
Print Recipe
Keto Spice Cookies
These keto spice cookies are a combo of low carb speculaas cookies and gingerbread. This cookie recipe is easy to make and gluten-free.
Cuisine:
American, European
Almond flour, Biscoff, Christmas Cookie, Gingerbread, Gluten-free, Keto, Low Carb, Pumpkin Spice, Speculaas, Speculoos, Spice Cookie
Ingredients
1 1/4

cup

Almond flour

1/4

cup

Coconut flour

1/2

cup

Butter

softened

1

Tbsp

Pumpkin Pie Spice

(Add 1 tsp more if you love the spice flavor)

1/2

Cup

Monkfruit Sweetener*

Golden variety, classic would also work

1/2

tsp

Vanilla Extract

1/4

tsp

Salt

1/2

tsp

Baking Powder

1

Egg

1

tsp

Molasses

Optional, omit if strict keto

1/4

cup

Sugar-free white chocolate chips

optional
Instructions
In a large mixing bowl, cream the sweetener and softened butter. You can use a wooden spoon for this or an electric mixer.

Add the egg and vanilla to the butter + sweetener mixture.

In a separate bowl combine the dry ingredients: almond flour, coconut flour, pumpkin pie spice, golden monkfruit sweetener, salt, and baking powder.

Add the dry ingredients into the bowl of wet ingredients and mix thoroughly until a smooth dough forms.

Wrap prepared dough in parchment or wax paper and chill for 45 minutes or longer.
After Dough Is Chilled
Preheat the oven to 350F. Line baking sheet(s) with parchment paper.

Roll out chilled dough between to layers of wax paper or parchment paper.

Use small cookie cutters for the shapes of these cookies. Alternatively, you could use a pastry rolling cutter and cut these into 1″ x 2.5″ cookie bars.

Bake on parchment paper or silicone mat for 12-14 minutes.

Move cookies to a cooling rack until completely cooled.

If you are using chocolate chips, place one on each cookie and allow it to melt then spread it across the cookie either using the back of a spoon or by "sandwiching" two cookies together.
Notes
If you like sweet cookies, you could add 3/4 c monkfruit sweetener to this recipe instead of 1/2 cup. 
Pin It!
---
---