Ham and Cheese Cloud Eggs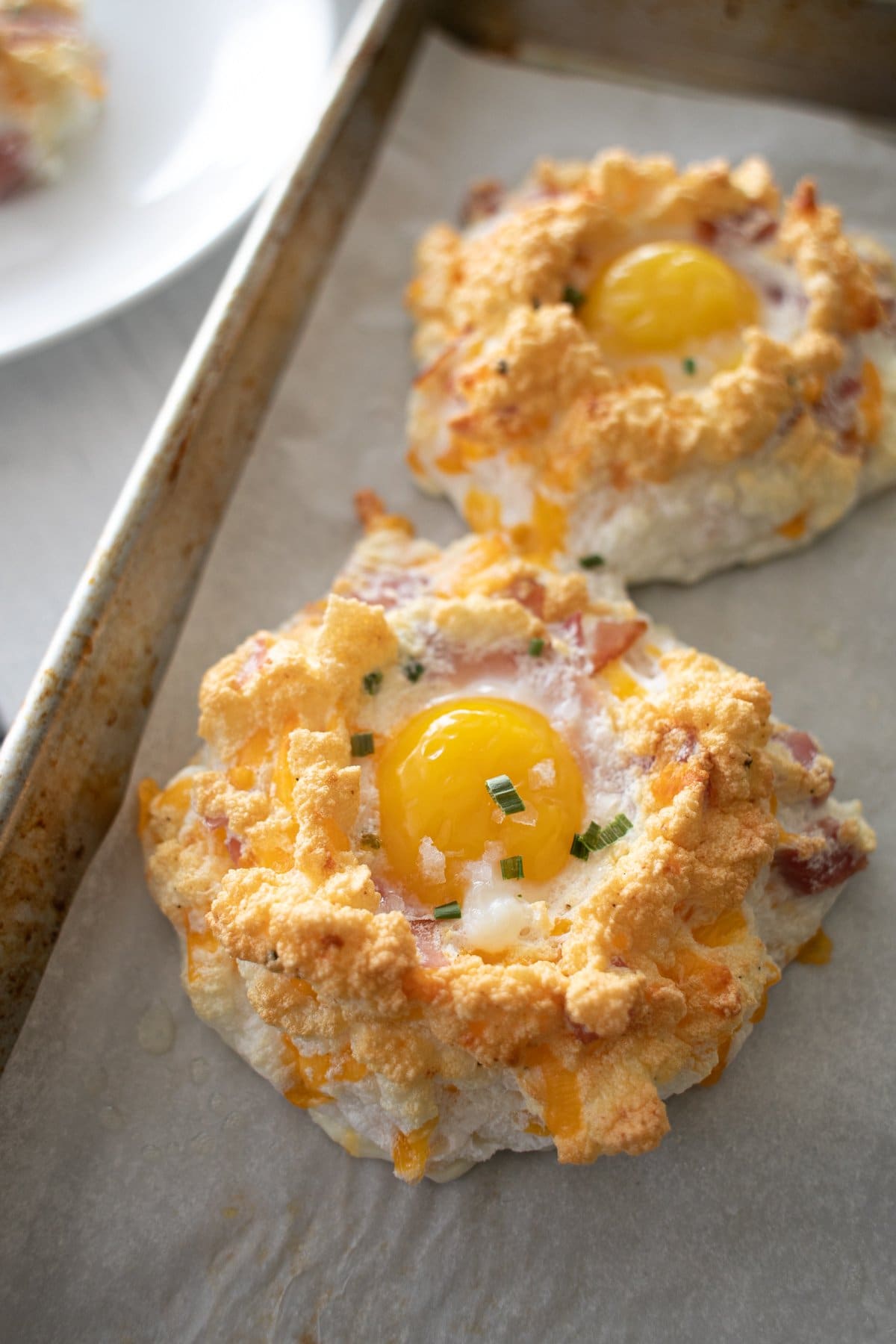 There are cloud eggs and then there are ham and cheese cloud eggs, you need these ones on your table asap! These eggs are super easy to make and are packed with flavor and the yolk is still runny. Find out more here!
What is a Cloud Egg?
A cloud egg is where you separate the egg whites from the yolks and whip the egg whites, bake them, then add the yolk towards the end of the cooking process. This allows for fluffy eggs and runny yolks. They're fun to make and up your brunch "wow" factor by 14 points.
Ingredients for this Ham and Cheese Cloud Eggs Recipe
The ingredients in these ham and cheese cloud eggs are super simple.
Eggs
Ham
Cheese
Salt
Pepper
Garlic Powder
Chives (fresh or dried)
**Disclosure** This post contains affiliate links, which means, if you click the link our website may make a small commission for advertising this product to you. It does not cost you more, but it helps to keep our site running.
Tips for making these Ham and Cheese Cloud Eggs
These cloud eggs look fancy but are actually really easy to make. As long as you have a mixer of some sort, whipping egg whites is not difficult.
Carefully separate the eggs, placing the egg whites in a large extremely dry bowl. Whip the egg whites until stiff peaks form, this will take 2-3 minutes for 6 egg whites.
To mix in the other ingredients, to keep the egg whites fully, you fold the ingredients in. Use a spatula and do a folding motion. You'll only need to do this a few times before things are well mixed.
Use a baking sheet that is lined with either parchment paper or a silicone mat. Also spray the mat or paper with non-stick spray. You want to take this extra step to make the eggs easy to serve!
Separate the egg mixture on your pan into 6 equal portions. Use a spoon to make a well in the middle of each cloud egg. This will be for the yolk, which you'll add after baking the egg whites.
Bake the egg whites for a few minutes, pull the tray out, carefully add one yolk to each well. Return the pan to the oven for another 4-5 minutes. Ovens vary, so keep a close eye on what is happening. You only want the egg whites to be lightly brown.
Get fancy. Garnishing makes everything look better and it makes it taste better. You can garnish with flake salt (because it is pretty) and more chives.
Alterations for this Cloud Eggs Recipe
If you aren't a fan of ham, you could use any lunch meat that you enjoy, turkey or chicken would be great.
Cheddar cheese is used in this recipe but if you want to use another type of shredded cheese, the choice is yours! Pretty much any shredded cheese would work for this recipe.
More Breakfast Recipes to Enjoy
Connect with Yellow Glass Dish
Did you make this recipe? Make sure to join the @yellowglassdish community on instagram and tag me in your cooking pictures! Don't miss out on tips, updates, and free kitchen printables! Join our Email List right here!
You can also join the YGD Facebook community! Also, get awesome low carb recipe inspiration on Pinterest.
Print Recipe
Ham and Cheese Cloud Eggs
These ham and cheese cloud eggs are an easy keto and low carb breakfast to make with common ingredients. This recipe is ready in less than 15 minutes.
Ingredients
6

Eggs

separated

4

oz

Diced ham

lunch meat is okay

½

cup

Shredded Cheese

¼

tsp

Garlic powder

Salt to taste

Pepper to taste

1

tsp

Chives

Fresh or dehydrated
Instructions
Preheat the oven to 425°F.

Separate your eggs, put the egg whites in a large dry bowl. Carefully place the egg yolks in another bowl (you want don't want the yolks to pop).

Use a hand mixer (or stand mixer) to whip your egg whites until stiff peaks form.

Add the cheese, ham, and spices and gently fold into the egg whites.

On a baking tray lined with parchment paper or a silicone mat, spray the paper with non-stick oil. Separate the egg white mixture into 6 equal portions on the pan then use a spoon to create a little well in the middle. You'll add the yolk to this later.

Bake the egg whites for 4 minutes and pull the pan out of the oven.

Carefully transfer yolks into each well. Return pan to the oven for another 4-5 minutes.

Once the cloud eggs are lightly browned, the yolks should still be runny.

Garnish cloud eggs with some flake salt and dried chives (optional).
Notes
Note:
If your bowl that you whip the egg whites in is not totally dry, the egg whites won't whip.
You can use other meats if you don't want to use ham, turkey our chicken would be great. 
Pin It!
---
---